Old Town Studio in Barcelona
in the lively Raval, cosy and with balcony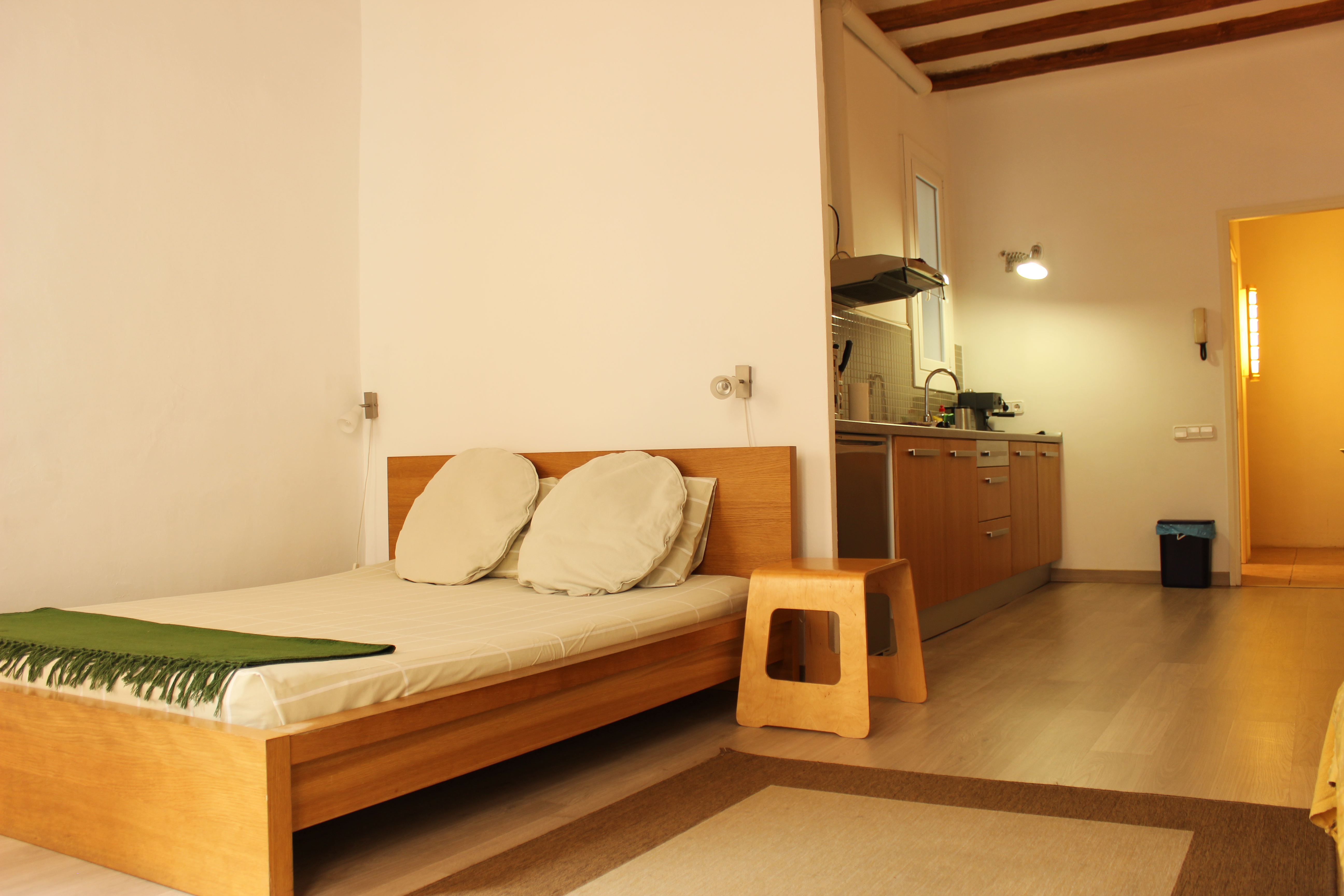 El Raval, this is the popular and lively district in Barcelona's Old Town, where the creative life of the city takes place and everything unfolds freely. With an alternative music and art scene, El Raval sets itself apart from gentrified quarters such as the commercial Barrio Gótico. The apartment is located in a safer and quieter area on the outskirts of the district and is easily accessible by public transport. The Eixample, the bourgeois quarter, is only 50 metres away. With the subway less than 100 metres away and numerous bus lines about 150 metres from here, you can reach any point of the city quickly and comfortably. Even the airport bus runs only a few hundred meters from here!
The studio is completely furnished, including Internet included in the price. The division into sleeping, cooking, living and dining areas is clearly recognisable and comfortable. It is suitable for couples or for students during an Erasmus stay.
Information zum Studio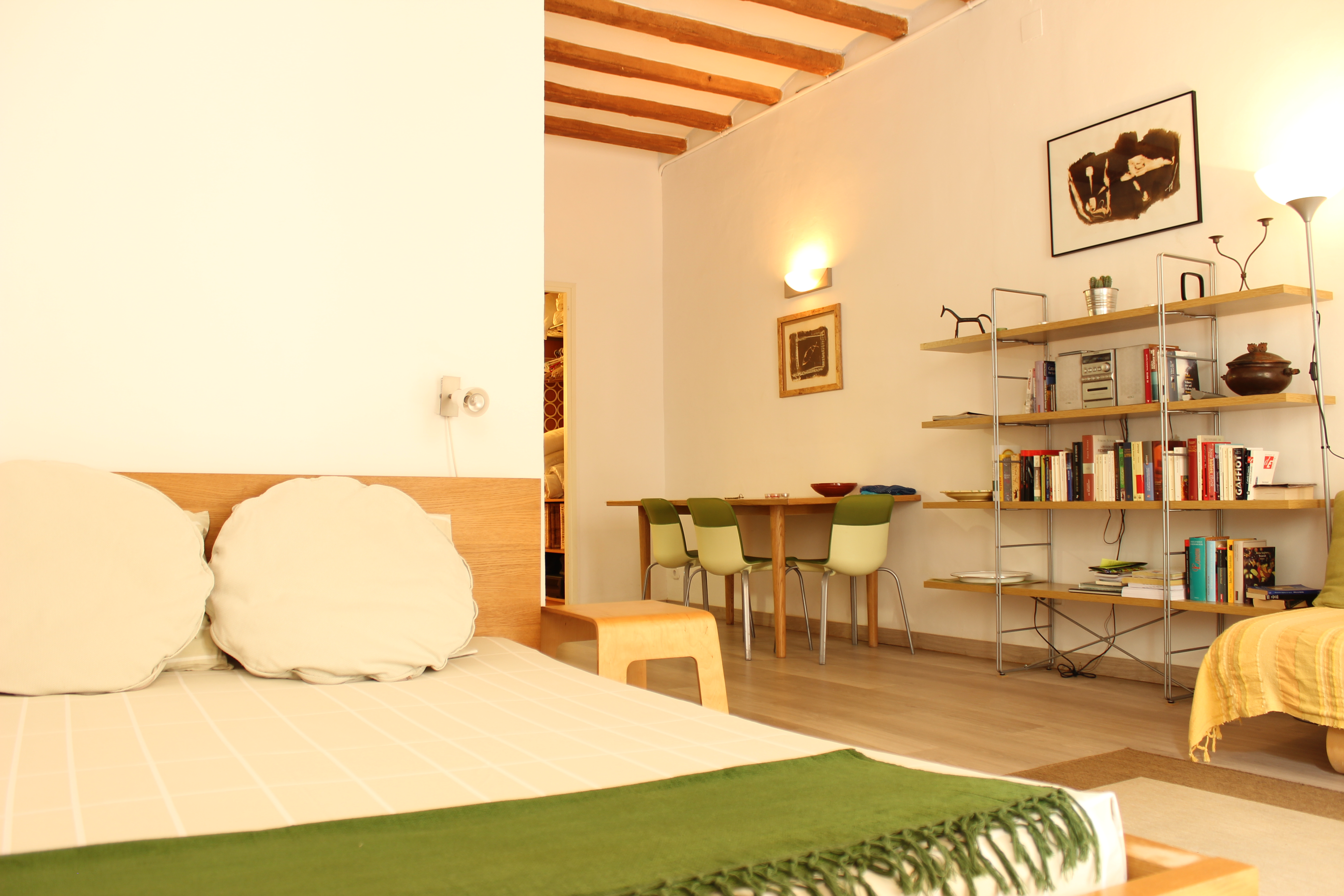 The studio is divided into several areas. After the entrance with 2 wardrobes and the bathroom with shower a large room with kitchen and dining area opens opposite her; living area with sofa and sleeping area with double bed (160x200). The old town studio has a balcony on the street. The TV offers Spanish TV channels, but can also be switched to satellite. The apartment in the old town is ideally suited for 2 persons and stays of several months.
Internet (300Mbit fiber connection) is available and included in the price.
The studio also has a washing machine. The shower room is modern and functional. Hot water is produced by a hot water storage tank, which is completely sufficient for 2 persons. The kitchen is equipped with microwave and ceramic hob.
---
Photos
---
Prices
People
1 month
2 months
1 - 2
990 all inclusive
990 all inclusive
Prices include electricity and water, assuming normal consumption (i.e. no air conditioning with open windows!) Due to the minimum stay there is no tourism tax. The final cleaning is included in the rental price, intermediate cleaning can be organised for longer stays.
---
Inquiries and booking
Calendar
Mar 2021 (Req)

M
D
M
D
F
S
S
01
02
03
04
05
06
07
08
09
10
11
12
13
14
15
16
17
18
19
20
21
22
23
24
25
26
27
28
29
30
31
Apr 2021 (Req)

M
D
M
D
F
S
S
01
02
03
04
05
06
07
08
09
10
11
12
13
14
15
16
17
18
19
20
21
22
23
24
25
26
27
28
29
30
May 2021 (Req)

M
D
M
D
F
S
S
01
02
03
04
05
06
07
08
09
10
11
12
13
14
15
16
17
18
19
20
21
22
23
24
25
26
27
28
29
30
31
Jun 2021 (Req)

M
D
M
D
F
S
S
01
02
03
04
05
06
07
08
09
10
11
12
13
14
15
16
17
18
19
20
21
22
23
24
25
26
27
28
29
30
Jul 2021 (Req)

M
D
M
D
F
S
S
01
02
03
04
05
06
07
08
09
10
11
12
13
14
15
16
17
18
19
20
21
22
23
24
25
26
27
28
29
30
31
Aug 2021 (Req)

M
D
M
D
F
S
S
01
02
03
04
05
06
07
08
09
10
11
12
13
14
15
16
17
18
19
20
21
22
23
24
25
26
27
28
29
30
31
Sep 2021 (Req)

M
D
M
D
F
S
S
01
02
03
04
05
06
07
08
09
10
11
12
13
14
15
16
17
18
19
20
21
22
23
24
25
26
27
28
29
30
Oct 2021 (Req)

M
D
M
D
F
S
S
01
02
03
04
05
06
07
08
09
10
11
12
13
14
15
16
17
18
19
20
21
22
23
24
25
26
27
28
29
30
31
Nov 2021 (Req)

M
D
M
D
F
S
S
01
02
03
04
05
06
07
08
09
10
11
12
13
14
15
16
17
18
19
20
21
22
23
24
25
26
27
28
29
30
Dec 2021 (Req)

M
D
M
D
F
S
S
01
02
03
04
05
06
07
08
09
10
11
12
13
14
15
16
17
18
19
20
21
22
23
24
25
26
27
28
29
30
31
Jan 2022 (Req)

M
D
M
D
F
S
S
01
02
03
04
05
06
07
08
09
10
11
12
13
14
15
16
17
18
19
20
21
22
23
24
25
26
27
28
29
30
31
Private apartments in Barcelona
---