Apartment Sarrià in Barcelona
with roof terrace in quiet pedestrian area
Sarrià is a quiet district at the foot of the mountain range that borders Barcelona domestically. Very popular with the locals because of its ideal location (only 15 minutes by S-Bahn from the city centre), the well-preserved old town, the nocturnal peace and clean air, Sarrià is an ideal starting point for those who want to spend their time not only in the city centre. Sarrià is home to world-renowned business schools (ESADE, ESEI, IQS...), architectural gems (Monestir de Pedralbes, Palau Reial) and numerous private schools, which are available in summer for numerous seminars. Embassies (USA, Mexico...) are attracted as well as private clinics offering advanced techniques to patients from all over the world (America, Gulf States, Europe, Russia...).
And yet Sarrià knows how to preserve its character. The last village to be incorporated into Barcelona in 1927, it defended its low houses in the old town.
Information about the apartment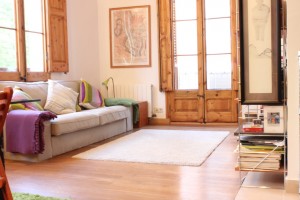 The cosy apartment Sarrià is 65m² large and is located on the 1st floor of a two-family house. We lived in it between 1992 and 2013 and had to leave it with a heavy heart because it was no longer big enough for the growing children. Since the corresponding permission has been obtained, it can also be used for short stays and as a holiday home.
It is ideal for 2 persons, exceptionally also for 2 adults and 1 child. It has a separate bedroom with double bed and a spacious living area with kitchenette, dining table and sofa. The bathroom has a bathtub, ideal for relaxing after a busy day in the city. Most of the apartment has oak planks, only in the entrance area, kitchen area and bathroom stoneware is laid.
Perfect to the apartment fits the roof terrace. Although it is shared with the only neighbour, an older couple, it has its own terrace and only uses the roof terrace sporadically in the morning for drying laundry. The roof terrace includes various garden furniture and a Weber grill.
Facilities: in the apartment there is a dishwasher, in the kitchen there is a refrigerator, an induction plate with 3 hotplates, an electric kettle, a Nespresso machine, a toaster, a juicer and an Italian coffee maker. In the attic upstairs there is a freezer, a washing machine and a dryer. Internet is available, as well as a connected Smart-TV, on which e.g. Netflix can be installed. Music can be played over the Bluetooth-Soundbar from the own mobile phone.
---
Photos
---
Prices
People
3 nights
4 nights
5 nights
6 nights
1 - 2
305
395
485
575
Prices include cleaning. On holidays and bridge days other prices may apply, these will be communicated upon request. Children under 6 stay free. Children between 6 and 16 pay 10€ per overnight stay.
---
Inquiries and booking
Calendar
Mar 2021 (Grs)

M
D
M
D
F
S
S
01
02
03
04
05
06
07
08
09
10
11
12
13
14
15
16
17
18
19
20
21
22
23
24
25
26
27
28
29
30
31
Apr 2021 (Grs)

M
D
M
D
F
S
S
01
02
03
04
05
06
07
08
09
10
11
12
13
14
15
16
17
18
19
20
21
22
23
24
25
26
27
28
29
30
May 2021 (Grs)

M
D
M
D
F
S
S
01
02
03
04
05
06
07
08
09
10
11
12
13
14
15
16
17
18
19
20
21
22
23
24
25
26
27
28
29
30
31
Jun 2021 (Grs)

M
D
M
D
F
S
S
01
02
03
04
05
06
07
08
09
10
11
12
13
14
15
16
17
18
19
20
21
22
23
24
25
26
27
28
29
30
Jul 2021 (Grs)

M
D
M
D
F
S
S
01
02
03
04
05
06
07
08
09
10
11
12
13
14
15
16
17
18
19
20
21
22
23
24
25
26
27
28
29
30
31
Aug 2021 (Grs)

M
D
M
D
F
S
S
01
02
03
04
05
06
07
08
09
10
11
12
13
14
15
16
17
18
19
20
21
22
23
24
25
26
27
28
29
30
31
Sep 2021 (Grs)

M
D
M
D
F
S
S
01
02
03
04
05
06
07
08
09
10
11
12
13
14
15
16
17
18
19
20
21
22
23
24
25
26
27
28
29
30
Oct 2021 (Grs)

M
D
M
D
F
S
S
01
02
03
04
05
06
07
08
09
10
11
12
13
14
15
16
17
18
19
20
21
22
23
24
25
26
27
28
29
30
31
Nov 2021 (Grs)

M
D
M
D
F
S
S
01
02
03
04
05
06
07
08
09
10
11
12
13
14
15
16
17
18
19
20
21
22
23
24
25
26
27
28
29
30
Dec 2021 (Grs)

M
D
M
D
F
S
S
01
02
03
04
05
06
07
08
09
10
11
12
13
14
15
16
17
18
19
20
21
22
23
24
25
26
27
28
29
30
31
Jan 2022 (Grs)

M
D
M
D
F
S
S
01
02
03
04
05
06
07
08
09
10
11
12
13
14
15
16
17
18
19
20
21
22
23
24
25
26
27
28
29
30
31
Private apartments in Barcelona
---